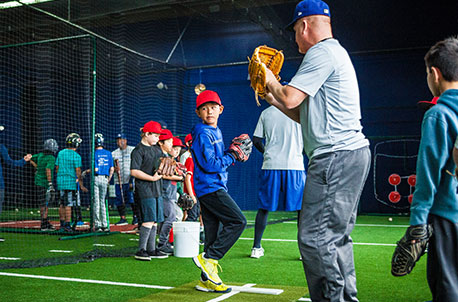 As the old saying goes, "practice makes perfect." But actually that's not quite right. Perfect practice makes perfect. If you practice wrong – swinging at balls out of the strike zone, letting the ball play you – then you only get good at those bad habits. You can try to polish your skills during team workouts and scrimmages, but in a team setting it can be hard to find the time and proper information needed to effectively build your skills.
And that's where our DTA 1-on-1 Lessons can help.
DTA is the official youth sports training and operations program of the Los Angeles Dodgers. And with customized training-and-progression plans developed by our terrific team of instructors in collaboration with athletes and parents, we can really help you focus on the areas of the game that YOU want to work on – anything from opposite-field hitting to hitting the edges of the strike zone, pitching from the stretch to stretching your infield range.
We do it all in our state-of-the-art indoor facilities, where our unique instructional system of teaching, technique and technology creates the perfect environment for building both skills and confidence.
Register for Lessons
Ready to get started? Select your location below!
First Time Taking DTA 1-on-1 Lessons?
Not a problem! Check out our instructors below. Once you're found an instructor, select your location above to get started!